Photo: Springbok Junior coach Deon Davids and rugby coaches from Nairobi at KCB Sports club.
Springbok junior coach Deon Davids landed in Kenya last week on Thursday September 10th 2015. He was in the country to implement a project that was initiated by officials from Rugby Afrique and Michael Otieno (The Kenya Rugby Union services manager) known to many as Tank.
The purpose of his visit was to train rugby coaches in Kenya on how to put up the correct systems, analyzing errors and defensive drills with the aim of helping Kenya Rugby achieving world class defense.
Upon his arrival, Sir Deon Davids headed to Kakamega on Friday where he had his first coaching session. On Saturday 12th Sepetember, Deon had a session with a number of coaches from Nairobi at the KCB Sports club "The Den" in Ruaraka.
"My session is simply to assist coaches analyze their team's errors and how to rectify those errors as well as how to encompass the systems, attitude, commitment and good communication. Most importantly, the coach should be able to choose a team of 23 players who can tackle hard with the leg drive by targeting three specific areas. For instance many people praise All blacks attack yet they don't know that its' as a result of their good defence that they are able to conquer most teams," said Deon Davids.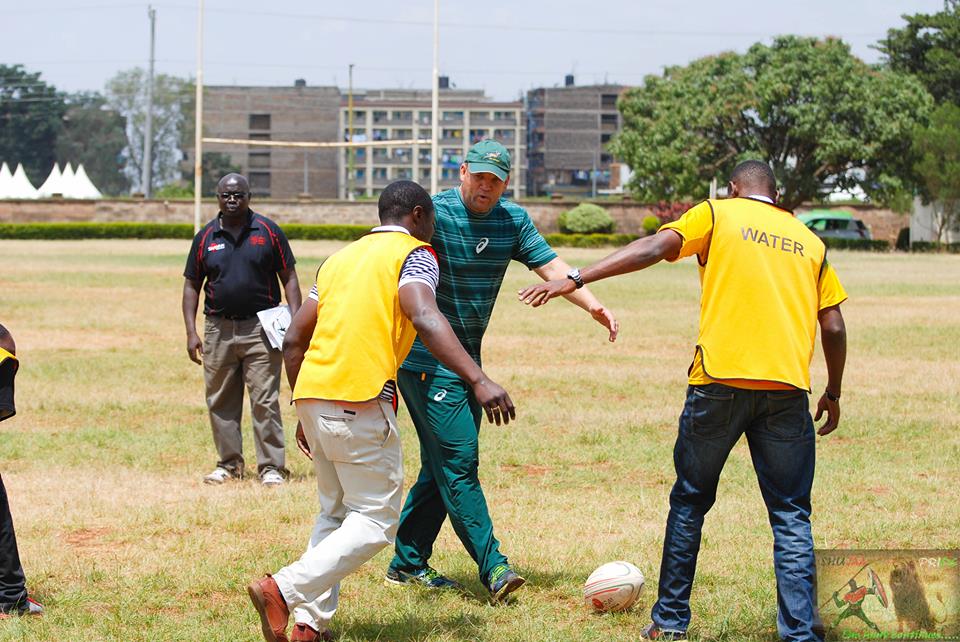 Photo : Deon Davids doing some demonstrations.
The Kenya Lionesses Technical bench led by Michael Shamia and Aschin Klein (Coash Ash) were among those who attended.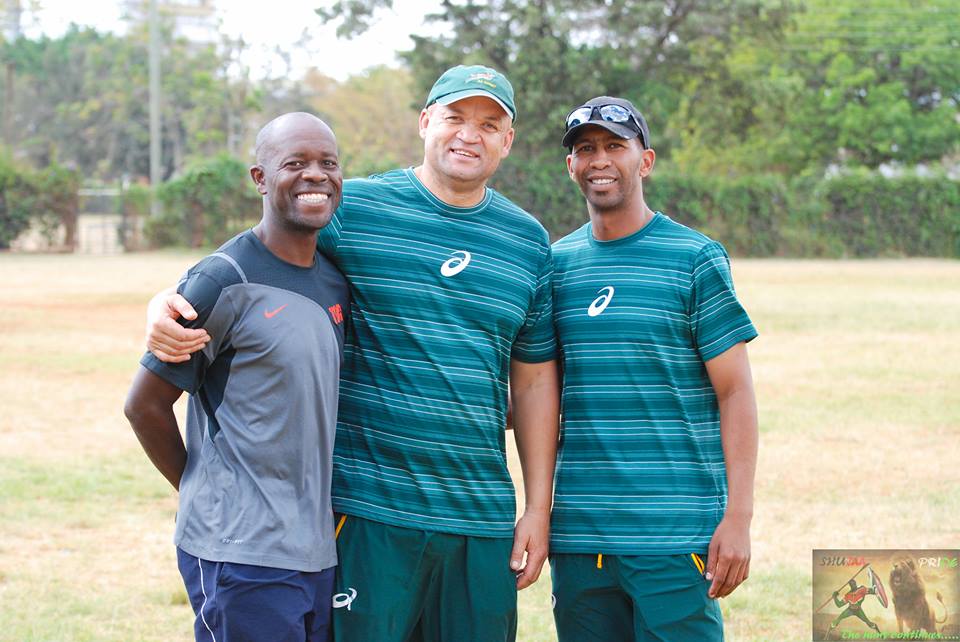 Photo : (Left to right) Michael Shamia, Deon Davids and Aschin Klein (Coach Ash).
In the same venue, Michael Tank Otieno expressed his positive optimism that this project will be of great benefit to rugby in the country.
"This aspect of defense detail is very important because this is what we lack in Kenya. My role is to tell Rugby Afrique the area I want coaching on either its defense or attack and they look for a coach then they pay the tickets as we sought the internal expenditures. He will finalize his weekend with schools coaches since we would like to involve all the stake holders," said Michael Otieno.
The Springbok Junior coach had his final session at Lenana school where he trained school coaches on Sunday before he flew back to South Africa later on that day.
Michal Tank Otieno and some Rugby Afrique officials came up with a project that will be happening after every three months. The program shall see local rugby coaches being coached on specific topics that will assist them in training local players the long term goal being to make Kenya rugby more professional.
The next session will happen three months from now.