Photo : Heroines Kenya Lioneses 7s at JKIA after arriving from Johannesburg South Africa.
Arguably the second best female rugby team in Africa, The Kenya Lionesses, arrived back in the country from Johannesburg South Africa yesterday afternoon.
The lionesses exhibited top notch performance in the just concluded Rugby Africa Women's Sevens Championships after falling to hosts South Africa in the cup final.
The ladies had an impressive outing as they emerged as the highest points scorers in the two day rugby event. The lionesses scored an incredible 194 points and conceded only 45 and kept three clean sheets against their opponents.
Speaking at the Jomo Kenyatta International Airport upon arrival, Kenya Lionesses captain Catherine Abila said the games in South Africa went well; they tried their best and won all their matches but lost in the finals.
Abila was quick to thank God and appreciated the far they have gone as a team.
"I think in the last game South Africa used their experience as an advantage against us but we are moving forward and look up to a better future. Clearly some of my team mates are spirit-sunk because we all wanted the win but unfortunately we didn't. We still have another chance to make it to the Olympics so we still have the psyche. We clearly need more support and we appreciate the little support we get, "Catherine Abila said.
Kenya Lionesses Head Coach, Michael Shamia was happy that the girls played fantastic rugby cruising all the way to the finals with huge wins with very few resources.
"South Africa was a better side than us and we learnt and moved on. There's time for improvement and in rugby any day is a good day as a mighty team can fall as a small team proceeds. We came back home with the second spot in Africa which is a huge thing for us. Against South Africa, we defended well but we didn't have possession though we scored the first try and they denied us possession whilst attacking well," Michael Shamia said.
Before leaving South Africa, KRU Director Paulina Lanco who was with the team, thanked Her Excellency Ambassador Jean Njeri Kamau and Deputy High Commissioner Ambassador Lemarron Kaanto for hosting Kenya Lionesses, sponsoring their tour of Johannesburg and Pretoria.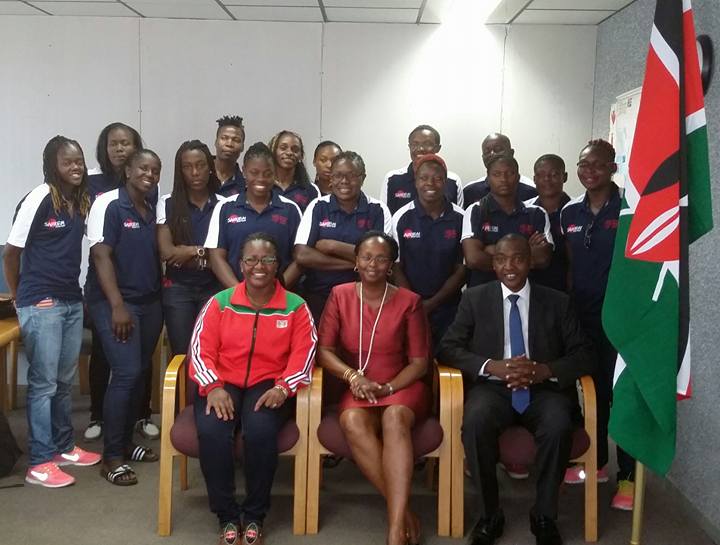 Photo: Kenya Lionesses and Her Excellency Ambassador Jean Njeri Kamau and Deputy High Commissioner Ambassador Lemarron Kaanto in South Africa. Source Paula.
"Thank you most especially for checking in and encouraging us last night. It was as such my honor to present you the Kenya Rugby Union Honorary pin. May you continue to fly our flag high," Paulina Nzisa said.
Kenya Lionesses still have a chance to qualify for the Rio Olympics as their last will be next year. Dates of the tournament will be confirmed later by the World rugby.