Pic : Richard Bennett being interviewed. Courtesy rugbyinafrica.org .
One on One with the founder and Managing Director of Bhubesi Pride - Mr Richard Bennett. Bhubesi Pride is a foundation that aligns projects activities alongside their relevant sponsors (G4s Africa) between January and July every year.
Their objectives are as follows:
UNITE communities through rugby, promoting the sport's values and life skills
EMPOWER and up-skill local staff, nurturing community leaders, male and female, maximizing sustainability
INSPIRE long-term developmental outcomes through tangible legacy projects, alongside in-country partners
When was Bhubesi Pride founded?
2011

What does Bhubesi Pride do?
Bhubesi Pride Foundation is a UK registered rugby-for-good charity, operating in Africa. We use rugby as a tool to unite young people and address social issues in underprivileged schools and communities. We provide equipment and training for local players, teachers and staff. And increasingly, we're initiating 'legacy projects' specific to the needs of different communities, which can be sport or education related.

Apart from Kenya, Which other countries do you set up your clinics?
Uganda, Tanzania, Mozambique, Malawi, Zambia, Botswana, Namibia, South Africa

What has Bhubesi pride achieved so far?
We're into our fifth year of operations. Annually we work with around 3,000 - 4,000 children and empower over 200 local staff. Legacy projects to-date include, building a netball court in a township school in South Africa; improving security and ablution facilities in a Botswana school; installing 25 computers in a rural Zambia school; employing a project manager part-time in Malawi to run year-round sports and life skills programs.

What do you plan on achieving in your visit in Kenya?
To continue to support Shamas Rugby Foundation in Mathare, with the fantastic support of our strategic partner, G4S Kenya, and review further relevant ways of instilling a legacy here.

When did you land in the country and when will you leave?
We're in Kenya from 24 January to 7 Feb. Join us at our tournament day on 6 Feb at KCA University; 9am start.

What are you currently working on in Kenya? Take us through what you been doing.
We've had a fantastic training week with our multi-national team of Pride Members (rugby coaching volunteers) at Ololo Lodge on the edge of the Nairobi National Park. We move to Braeburn Garden Estate tomorrow and - in addition to starting coaching in Mathare schools next week - look forward to coaching Shamas coaches and leading character education sessions with G4S.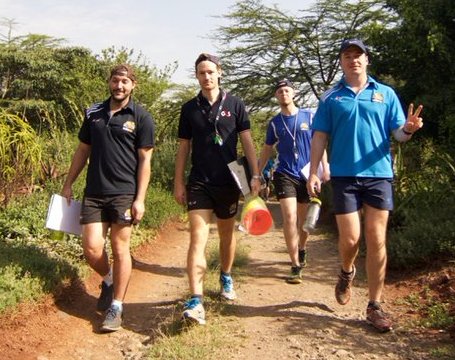 Pic : Bhubesi Pride and G4s - Last day at Ololo Lodge! Day 3 of training. Source Twitter @Bhubesipride

We understand you have signed a contract with G4S. Take us through this partnership.
Bhubesi Pride Foundation's partnership with G4S Africa, based in Pretoria (SA) sees the charity and its Africa business units (like G4S Kenya) teaming up in nine countries. Together, we coach children rugby, we develop leaders in the community, G4S runs life skills sessions and provides refreshments, tournament giveaways, trophies, certificates and generally make our community rugby weeks very special for the children indeed. The logistical support we receive from G4S helps our teams dramatically, and we provide G4S great visibility in the community for the brand, their employees and their customers.
For More information about them, visit Web: http://rugbyinafrica.org/ and follow them on Twitter : @bhubesipride