Photo : Strathmore Leos centre Richard Omedo under a tackle by Benson Amadi and Fidens Tony (right) of Northern Surburbs on February 13 at Madaraka grounds.
In a fortnight, the Kenya cup season 2021 will kick off at six different venues to allow 12 teams begin an 11-round battle for top four cut for the rights to be in the playoffs, former champs KCB has been confirmed to play Leos in opener as Kabras looks forward to a Mashemeji derby against MMUST.
The Championship semi-finals matches on February 13 were to decide fate for two new teams to feature in the new Kenya cup season rumored to possess no relegation as KRU is set to only have the top flight league running in the country, official announcement by the union could float up any time this week.
HOW IT WENT DOWN
In Kakamega..
MMUST achieved the tag of first Campus from Western to make a Kenya cup cut led by Coach Ochieng Ahaya who is still part of the brain behind Kabras and Western Bulls maiden entry into the big boys league.
MMUST went to the first half period trailing Machine by two points but a second half comeback shot the hosts to 14points clear ahead of the former Kenya cup giants courtesy of two tries to supplement a first half converted try.
Mean Machine fly half Festus Safari booted in three drop goals and slotted a penalty but by virtue of not going past the chalk for tries, 12 points off the boot alone could not beat a well-played second half by MMUST who sent Eshuma Absolute back to Nairobi without the tipped promotion.
At Madaraka..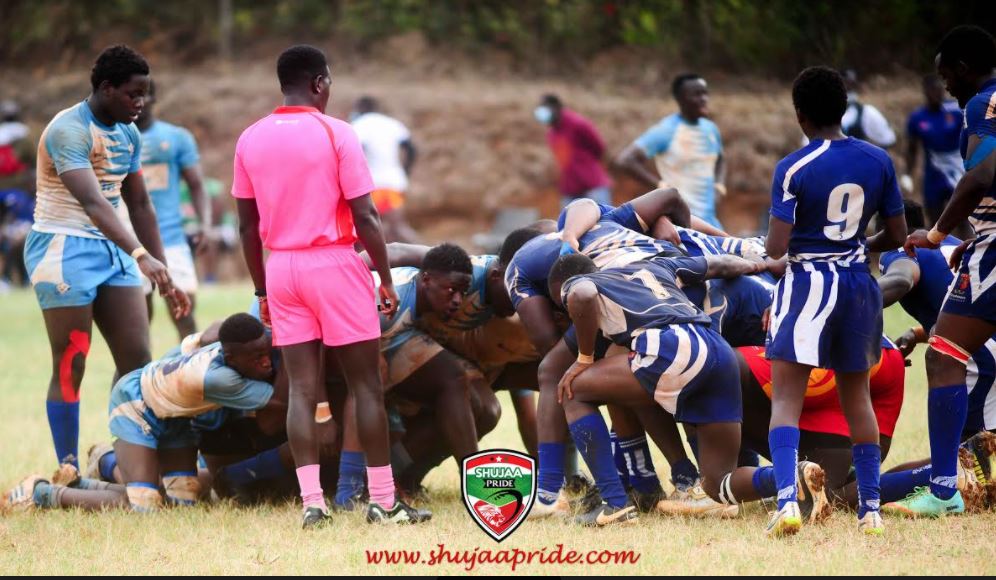 Photo : A scrum situation involving Northern Suburbs and Strathmore Leos (right) at Madaraka grounds on February 13
A nervy 3-3 half time tie at Madaraka grounds, saw both coaches rely on their pep talk to re-awaken players' minds to return back stronger but what was really going on in their minds positioned just a penalty away from promotion to Kenya cup?
Shujaa Pride managed to speak to Strathmore's coach Louis Kisia and Northern Suburbs head coach Simon Jawichre.
While describing the journey to jump ship from Championship league- Leos' coach Kisia thumbed up Suburbs for bringing their A game in Madaraka to set up a memorable semis clash while on the other side coach Simon Jawichre was not impresseD by how his boys missed scoring opportunities, believed scoring at least a try in the first half could have placed the Cubs in a better position to award Leos a shocker.
Coach Louis Kisia
"It has not been easy, it has been a long journey. Championship league has a lot of costly travels not just in monetary form but also in terms of fatigue levels as a result of training Monday to Thursday, travel on Friday, play and return the same day and the following weekend its Eldoret, South Coast, Kakamega or Mombasa again. All this took a toll on the players but kudos to the players they knew what they wanted and played as we trained as we trained, it took them mental strength to get back from down there and it's a great honor to be back in the Kenya cup.
The half time pressure
Am good under pressure-I just went back to my senses and told them there was no need to try things we had not done in training so the little bit of selfishness in the first half was done away with how we came back stronger in the second half ready to play.
Against the Bankers
We will rely on our fitness and take any points we get, the outcome against the Bankers doesn't matter I will rely on the performance. It's the performance that will change the outcome." Strathmore Leos coach Louis Kisia told Shujaa Pride.
From the other corner, Northern Suburbs coach Simon Jawichre left Madaraka grounds not totally heartbroken, getting to a level of just a match away from Kenya cup promotion in their first Championship season.
Coach Simon Jawichre
"If you look at two things first-each time Strathmore plays they come back stronger in the second half so 3-3 was not really perfect, at least we scored a try but it did not happen. We still had other opportunities in the second half but unfortunately a small lapse of about ten minutes cost us the match.
Against Leos in third meeting
That was a very good match and they did a good job at home, they deserved the win, they went through the Championship league unbeaten. For us when Covid-19 kicked in and matches were halted, returning back to training and to play has been a challenge, The next we return back stronger and I think we can do it," Northern Suburbs head coach Simon Jawichre in an exclusive with Shujaa Pride.
Saturday February 13, Kenya cup qualifiers results
Strathmore Leos 23-6 Northern Suburbs (HT 3-3)
MMUST 21-12 Mean Machine (HT 7-9)
Confirmed February 27 fixtures
Kabras Sugar v MMUST
KCB v Strathmore Leos
Homeboyz v Nondescript
Impala Saracens v Kenya Harlequin
Mwamba v Blak Blad
Menengai Oilers v Nakuru