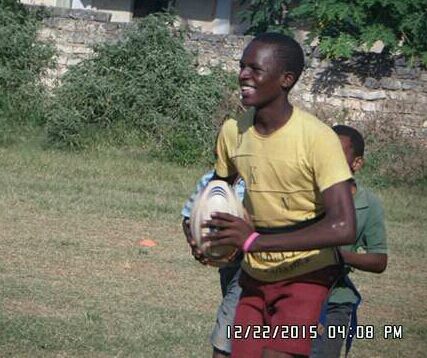 Pic : Bryan Mariga.
Updated on : 26 January 2016.
High school : Moi forces Academy Mombasa.
Date of birth : 27th October 1998 .
Nickname : Mariga .

Rugby position : Hooker .
Height : 5 feet 4 inches.
He decided to start playing rugby after being advised by Gem Dennis of the Mombasa Rfc in January 2012.
Role model : Oscar Ouma.

"I want to be an International rugby player " ~ Bryan Mariga.

Bryan Mariga's Life history.
Family Backround
Bryan Mariga was born in Butere, Kakamega county 1998.
He is a third born in a family of four children, 2 girls and 2 boys namely: Brian Mwenje Mariga,
Reinhard Malika , Syprose Atsulu and Phiona Okolla.
He is the son to Mr. Titus Malika and Christine Malika.
Education backround
Mariga started learning at Jamvi la Wageni primary school before moving to St. Peters Lugulu Primary school in Lugari distrist. He later joined Consolata Catholic Primary school where he completed his primary education. He then joined Moi Forces Academy in Mombasa.
Rugby Career
Mariga started playing rugby while in class six at Consolata primary school in Likoni Mombasa. At that time he used to play to play for St. Philips A.c.k Church,likoni. One year later the team collapsed and he joined Likoni rugby football club (formed by Gem Dennis of Mombasa RFC) in 2013.
Two months after joining his new club, he was chosen to be the team captain, where they participated in C.A.R 7s rugby held in Mombasa sports club. we finishd 1st runners up,
Bryan Mariga's Achievements
He has participated in several tournaments including : Driftwood 7S, safaricom­7s, Diani Beach Rugby ,ETC.
He is also the Moi Forces Rugby team captain and his dream is to later join Mwamba RFC his dream club.
Bryan is currently the young coach of Likoni Junior team ( Tag rugby ) Under 10, Under 12 and Under 14.
*We Profiled him when he was a form 2 student in Moi Forces Academy Mombasa.*