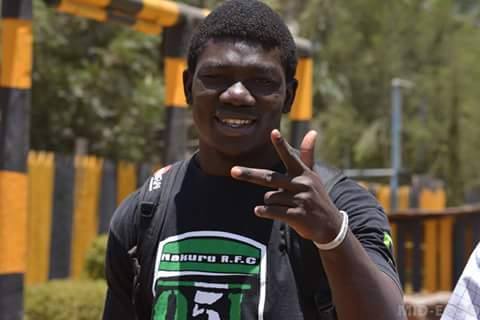 Photo : Martin Owilah Omondi.
Date of Birth : 31/3
6.1 inch Tall.
96kg in weight
Previous club : Top Fry Nakuru
High School: Homabay High School aka Asego Yienga.
He plays Lock and Back row major at Nu 5 and 8..
Campus : Mount Kenya University Nakuru Cumpus. (Bsc Environmental Science)
Great Lakes University in Kisumu (Diploma in Community Health)
Nicknames : .Gorilla .Ozil and Mortlock (he jokes huh some came with Complexion and Hair style haha).
His Area of Profession is Humanity Related. (Public Health Practioner)
Martin Owilah Omondi volunteers with the Kenya Red Cross.
Martin Owilah Omondi has been a scout all from Primary and found that actually High School Scouting was more fun and Interesting .part from the campings.marching .flag raising we were like the "Doctors" on innings and Outings.and so this Provincials cone to his school and he was part of the First Aiders attending to Players.
Mortlock was so into this game that he liked it so much. Then he began falling in love with it. Before he knew it, it was his Culture playing my First Game for Ceres House Inter Dorms .2008
He started Playing when he was in Form Two. Before then he was in Handball and Football as a Keeper. But as a keeper the ball wasn't always much in his Hands especially when we got Possession. He thought why not Rugby where the Ball is always Part of you and the Team.
Back then he just Watched the Rugby world cup 2003 and 7 not much of the games but most of The highlights and used to Admire Sterling Mortlock the Wallaby. And One Man Dennis's Mwanja his Uncle Dennis's Timon..whom he used to see more on the Papers the Sport section playing for KCB and Machine Respectively.. It has been a ladder and he thanks God he is not Stagnant.
His rugby career has been great and its getting Better..From Kisumu Rugby To Nakuru Rugby To Representing Kenya XV in The RWC qualifiers. He says It is really a Privilege.
Martin Owilah loves Jesus as his Lord and Savior through and he says His Grace the Rugby Fraternity in Kenya has had Tremendous Improvement and Preservation.
One verse he does admire is Ecc 9:10 he says it makes us realize to always be Ready to Execute our Opportunities..
Achievements
Martin Owila was elected as the president of MKU on 4th February 2017.