In a newsletter released by Kenya Harlequin on September 14 morning, coach Charles Cardovillis stepped down as the head coach after a season stint with the Ngong road based club.
The newsletter signed by Quins chairman Michael Wanjala recognised the tacticians impact in the club and wished him all the best.
"He has been instrumental in the revival of club rugby at Quins and I wish him all the best in his future endeavors," read part of the statement.
Coach Charles Cardovillis returned to Harlequins on October 8, 2018 after a short stint with Kabras Sugar where he won the Sugar Millers maiden overall 7s championship and reached Kenya cup finals.
Quins team manager Godfrey Okoth and coach Cardovillis roles at Harlequins were on Wednesday September 11-2019 slammed with a 12-week ban from all rugby-related activities set to end on November 21 for alleged misconduct that took place during the 2019 Kabeberi sevens tourney at the Kinoru stadium, Meru county on July 27-28.
The initial ban was a 24-week period cut by half after the panel found evidence linking them to previous misconduct.
The alleged misconduct that earned them the ban narrows down to how the two took their match officiating complaints via social media platforms (Facebook and Twitter) protesting match officiating standards that according to Cardovillis, determined wins/losses and aggravated the matter after failing to show up for the first hearing chaired by George Mbaye and Aggrey Chabeda.
"Rugby officiating in both the Kenya Cup and the Sevens' series this year has been on a whole different level of horrific. Referees have determined the outcomes of games with poor calls on pivotal plays. When officiating changes a team's W-L record, that should be a big concern to all key stakeholders of the game," read a section of the statement by Coach Charles Cardovillis that put him in a standoff with the Kenya Rugby Referees Association (KRRA) to prompt the association to open charges for the alleged misconduct.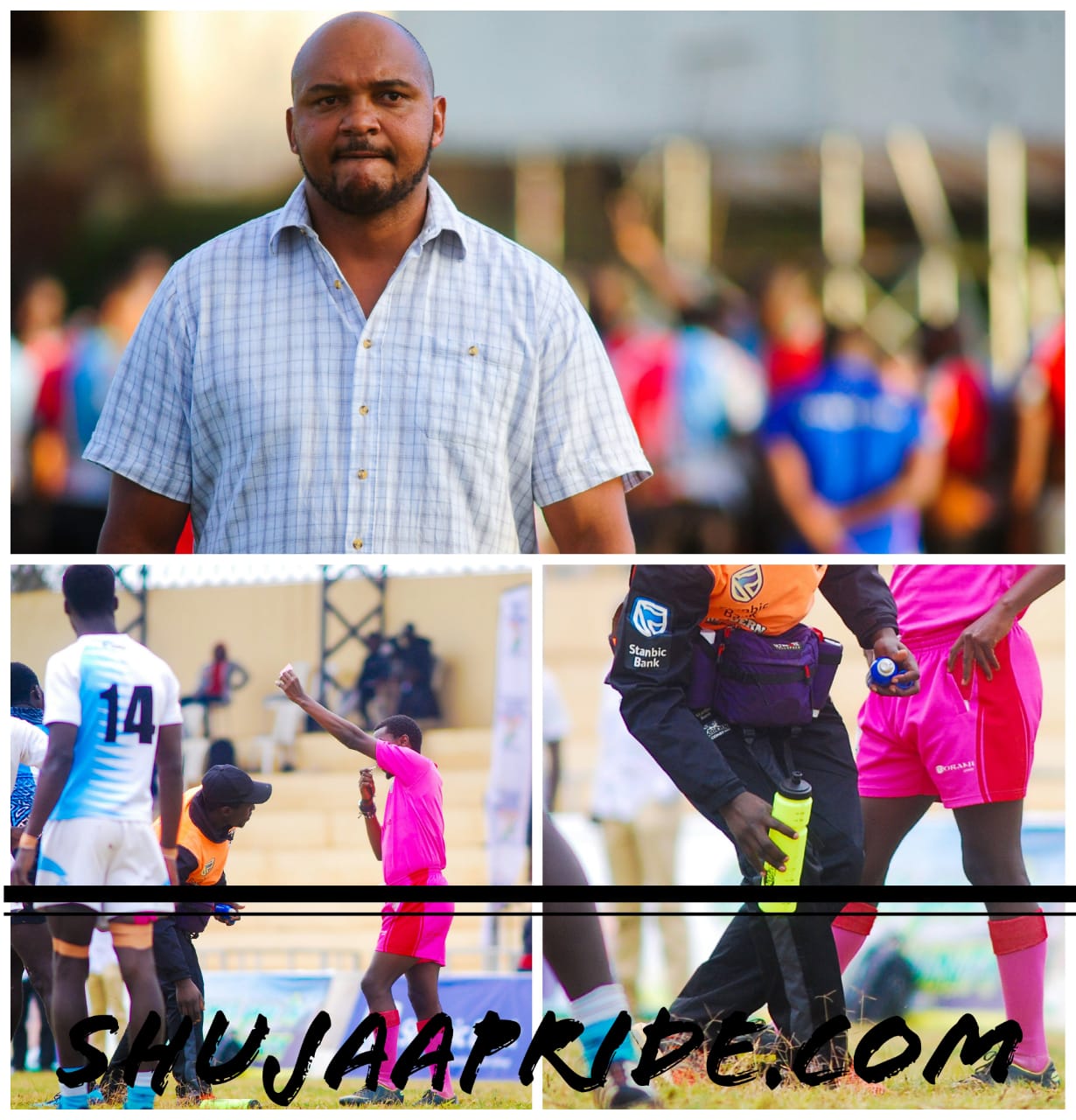 In Kabeberi, Harlequin' head coach Charles Cardovillis pointed a 17-12 lost pool clash against Mwamba as unfairly officiated, a match if won could have seen Harlequin play their first seasonal cup quarter finals after beating Egerton Wasps 24-0.
Stanbic Mwamba proceeded to the cup quarters where Michael Agevi dangerously charged and tackled a mid-air bound Northern Surburbs player going for a high ball. Centre referee issued a straight red card a minute to half time period but the decision was reversed during the short break and Mwamba was back to full house a minute on resumption after Agevi returned to action contributing to a 43-0 win over Suburbs.
Surburbs was denied a crucial advantage despite trailing by four tries at the time centre referee issued the red card in full glare of the fans as captured in the provided collage photo.
World rugby educator and top South Africa referee Rasta Rasivhenge conducted the 2019 match officials' high performance camp hosted by Kenya Rugby Referees Association in Nandi County prior to the 2019 circuit kick off.
Main focus of the high performance camp included fitness, breakdown management, communication and law examination.