Photo : Mcee Azu Swagg Top Shutter in green and other rugby fans cheering Kenya .

Kenya rugby fans will be treated with two entertaining Elgon cup matches at the RFUEA grounds in Nairobi on 13th June 2015 . Elsewhere, Simba XVs will be away to Zimbawe in the Africa Cup tourney in Harare.
The first match of the day shall see the lionesses tackle Lady Cranes at 1:30pm EAT in the women's Elgon cup.
Head Coach Kevin Wambua and Physiotherapist Stella Mwende will be put to test with less than three weeks since they got their jobs as the technical team for women's 15s national team.
Kenya Lionesses will go into this match as the favorites having comfortably dispatched the Ugandans in the last two previous meetings. Live coverage of this match will be on this link. #KenVUg.
At 4:00pm, Kenya "A" will battle it out with Uganda cranes in the same venue in the Men's Elgon cup first leg. Tinashe Kamwenje from Zimbabwe will be the match official of this match. He will be assisted by Emmanuel Marete and Moses Ndung'u. For more detailed information about this match, click on this link KenyaVUganda.
1203 miles away from RFUEA Nairobi, Simba XVs will be away to Zimbabwe in Harare for the Africa Cup tie. Simba XVs technical bench (Jerome Paarwater –Coach, Simiyu Wangila – TM and Chris Makachia - Physio) named a strong squad for this tie. Zimbabwe is currently 2 places ahead of 29th paced Kenya in the current world rankings that was recently released. For full squads and live game coverage, visit this link ZimbabweVKenya.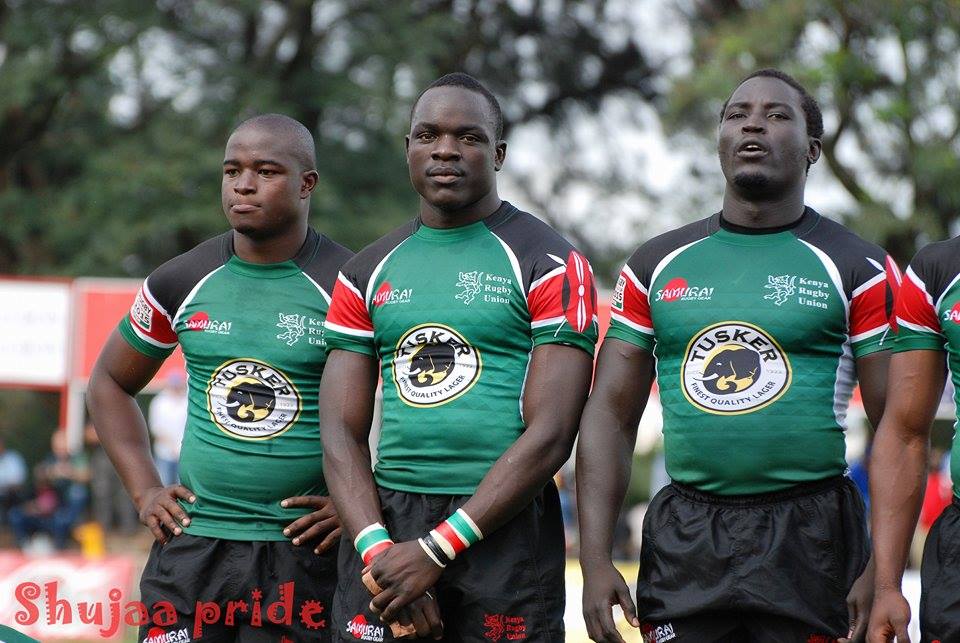 Photo : Simba XVs singing the national anthem before playing against Portugal.
Fans are urged to wear Red Kikoys (Maasai shukas) on Saturday. The RFUEA gates will be opened at 12:00pm EAT. Tickets at the gate go for Ksh 500 while an advance ticket costs Ksh 400. Come with a friend, don't come alone. #MachoRed